Are you considering an apprentice electrician career in Canada? Before you take the plunge, it's essential to consider salary and how it varies depending on specific criteria. Anything from work experience to particular regions to the current economy to certifications affects pay.
At Electicalexams.com, we pride ourselves on informing you about electricians and their trade. We researched the average salary for an electrician apprentice to better tell you about this career path. With this information, we want to help you decide whether becoming an electrician is right for you. Let's get started.
Is An Electrician a Good Job in Canada?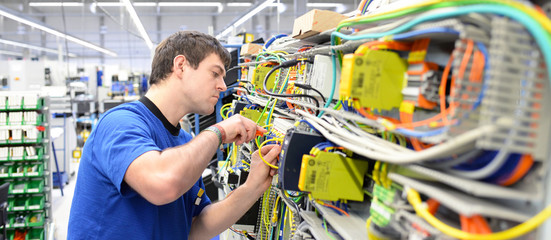 Construction work across Canada is on the rise. In 2021, the construction market reached over $300 billion. More construction requirements lead to more apprentice electricians. It's an excellent time to be an electrician in Canada.
But why is the construction market on the rise? It dates back to 2016 when the Canadian government implemented the Investing in Canada plan. With this plan, Canada invested $180 billion into new construction, like infrastructure and energy systems, to build the economy and grow the middle class.
Since this investment, construction across all regions of Canada has increased. Since construction requires electrical systems, the need for electricians and apprentice electricians skyrocketed. With more jobs comes better apprentice electrician salaries.
Electrician Salary in Canada
The average salary for an electrician in Canada is around $64,000. That salary varies depending on the person's experience and what region of Canada they are located. The per-hour rate, on average, is $32.57. Entry-level positions begin at $55,000, while master electricians make over $76,000 yearly. These average base salary options fluctuate based on the economy, experience level, and region. For example, some of the highest-paying cities for electricians are in Alberta.
The lower-paying electricians typically work 40 hours per week or 150 hours per month. Their total compensation may vary depending on their job and the overtime required.
Apprentice Electrician Salary
When embarking on the apprentice electrician journey, it's essential to note the average salary they make. Most apprentice positions last from 3-5 years, with opportunities for certifications like the Red Seal once an apprenticeship is complete. An apprentice electrician salary ranges depending on the amount of experience, similar to a master electrician's.
An apprentice electrician earns an average of $45,000 yearly at $23 hourly. The low end is $39,000, while the high end is $60,000.
Duration of an Electrician Apprentice
Apprentice electricians usually have over 5,000 hours of work experience or three years before their apprenticeship is complete. They can always go longer, but those are the criteria to advance.
One of the most highly sought-after certifications is the Red Seal examination. This certification consists of 100-150 questions and is four hours long. Practical questions test work experience, which is why completing an apprenticeship is essential.

At electricalexams.com, we offer a variety of study guides to cater to everyone's needs. Free options are available, but paid options offer more study material. Our paid option gives you over 800 questions to study from, practical test questions and a study module to ensure you are successful the first time you take the Red Seal exam. We offer a Bronze, Silver, and Gold membership with varying degrees of study guides according to your needs. A bonus offer is a money-back option if you receive a 100% on your Red Seal exam.
Certifying with Red Seal varies from region to region within Canada, but most requirements are similar. Completion of an apprenticeship, photo id, test fee of $100, language choice, and any special needs for learning disabilities is the required documentation before sitting for the exam. If, for some reason, you don't pass the test with a 70% the first time you take it, you may pay $100 to retake the test.
Apprentice Electrician Salary by Region
We discussed how the average base salary for apprentice electricians varies by region. Here are some examples of how the median salary for an apprentice electrician varies based on location.
Calgary, Alberta – Apprentice electrician's average salary is $48,000
Toronto, Ontario – Apprentice electricians make $$50,700 on average
Vancouver, British Columbia – Average salary for apprentice electricians is $55,200
Highest Paying Electricians
According to labor statistics, the highest-paying electricians are electrical superintendents. On average, some earn up to $88,000 annually, equating to about $45/hour. Construction electricians come in a close second making an average of $72,000 annually or $37.50/hour. These numbers are for master electricians who have finished their apprenticeships.
Ready to Get Started?

If you like what apprentice electricians make, it might be the career trade for you. While different employers pay different salaries, on average, apprentice electricians make a good salary based on their experience. Also, certifications like the Red Seal showcase your knowledge in the field and are highly respected throughout the industry. Check out electricialexam.com for guidance on how to certify as an electrician and study guides to help you prepare for the certifications. You'll be on your way to an excellent career as an electrician in no time.