If you are an electrician or thinking of becoming an electrician in Canada, the Red Seal exam is essential for getting top-quality jobs. The Red Seal Program lets employers see that you are qualified within particular Red Seal trades and have years of experience. Today, most companies and unions throughout Canada require a red seal certification to get hired.
That said, examinations can be daunting. At Electricalexams.com, we'll describe the Red Seal examination at length to help prepare you for this vital trade certification. By the end, you will better understand the red seal endorsement, the importance of an apprenticeship program, and mastering the final exam.
Who Runs the Red Seal Program?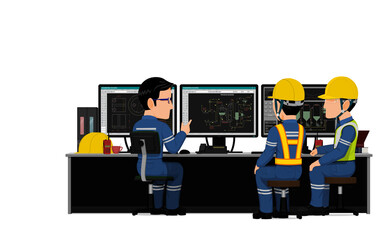 The Red Seal Program is run by the Canadian Council of Directors of Apprenticeship (CCDA). It started in 1952 when participants at the National Conference on Apprenticeship in Trades and Industries decided there needed to be a standard for skilled trades. The result was the formation of the Red Seal Program. Since then, provinces, territories, and the Canadian government have worked together under the CCDA to promote the Red Seal trade program.
Achieving the Red Seal endorsement means skilled workers have passed the Red Seal examination. That Red Seal designation and an apprenticeship program allow skilled workers to move within different provinces and territories within Canada to master their trade.
Before Your Red Seal Endorsement

Before taking the Red Seal exam, you must have worked as an apprentice in the particular Red Seal trade for a certain amount of hours or have over 8,000 hours of trade experience in the specific field. As with all skilled trades, on-sight training is vital to understand the skills and standards required before certification.
Tradespeople must enter a registered apprenticeship program or have over 8,000 hours of experience in the particular trade before taking the Red Seal exam. Apprentice programs usually require about 5,000 hours of training, which equals about three years of on-hand work. After achieving all the training and needed tests, apprentices receive an Apprenticeship Certification. In addition to that, three six-week technical training classes are required before taking the Red Seal exam.
Those who haven't been through a registered apprenticeship program must provide proof of past work history and employers to the Red Seal examination board before taking the exam. Based on that documentation, the board will decide if they are allowed to take the exam.
Understanding the Red Seal Examination
The red seal exam is like a final certification exam for designated red seal trades at the cost of $100. It consists of over 100-150 multiple-choice questions and is four hours long. The difference in the number of questions depends on the trade being tested. A passing grade of 70% is required, and the results and certificate are posted to you in the mail. If you fail the exam, the results show areas you need to improve. That information helps you to focus on those areas before retaking the red seal exam.

If you fail the red seal examination, it doesn't mean you can never receive a trade certification. The red seal program allows you to retake the exam within 15 days for $100. If you fail a second time, the red seal program requires you to take a refresher course or acquire more training before re-taking the exam.
Despite the computer offering the red seal exam, it must be completed in person. You cannot do it remotely.
Tradespeople from all over Canada create the questions that appear on the Red Seal exam. Depending on the trade being tested determines how many questions and the type of questions that are asked. Sample questions for skilled trades are on the Red Seal Program website to help people pass their Red Seal exams.
Preparing for the Electrician Exam
Once you have completed your allotted hours as an electrician, it's time to prepare for the Red Seal exam. Let's begin by assessing the administrative tasks.
Documentation Required
Tradespeople need to bring the following to their Red Seal exam:
Photo ID
Proof of apprenticeship program or trade hours
Money for fee payment
Required language for examination (English or French)
Any special requirements for learning disabilities
Any additional provisions required by the Apprenticeship Authority's website
Study Guides
Study guides are available for electricians seeking a Red Seal certification at electricalexams.com. There are free and paid options, depending on your study level. Free study guides include quizzes and the Canadian Electrical Code Book tips.
The paid option takes things a step further with over 800 practice questions, study modules, practical exam simulations, and money back for receiving a 100% on the Red Seal exam. Getting a glimpse of the Red Seal exam format helps give electricians the edge in obtaining a passing score.
Different Types of Electricians


There are various electricians including automotive, installation, and marine. However, the most common are construction, maintenance, and industrial electricians. Here's a better understanding of what each of those electricians does daily.
Construction Electrician
When wiring for electrical systems is needed in new homes or buildings, a construction electrician is requested. Construction electricians require skills to read and understand blueprints as they work with partially constructed facilities. Before feeding wires through them, they must first run conduit (metal piping) throughout the home or building. Finally, they attach the wires to breakers to allow electricity to flow to lighting, heating/air conditioning, alarm systems, and more.
Construction electricians must have four years of experience in an apprenticeship program with a high school diploma. Those programs usually need classroom hours to understand the new technology advancements behind electrical work.
This electrician work opens doors to becoming a job site superintendent or an estimator. Estimators plan how much time electrician work will take for a specific job. This electrician field is one of the fastest growing as new construction is advancing quickly throughout the world.
For information on passing the construction electrician 309A exam, check out more information here.
Maintenance Electrician
A maintenance electrician monitors, inspects, tests, and installs new wiring or electrical panels within a home or building. They ensure homes and buildings are performing correctly when it comes to electricity to prevent power outages and electrical damage.
Maintenance electricians usually require five years of experience through a registered apprentice program and a high school diploma. According to a Global News article from 2017, electrician jobs are one of the top most needed for skilled workers. While COVID affected the world, now coming out of the epidemic, electrician jobs are back on the rise.
Industrial Electrician
The final most common electrician is an industrial electrician. This electrician installs, repairs, and maintains electrical work for industrial facilities and components. They must understand local and federal electrical codes for their safety and well-being and the facility they are working in.
An apprenticeship program is required to become a licensed industrial electrician. All four to five years of apprenticeship are required, with classroom experience and a high school diploma.
According to Canadian statistics, the need for industrial electricians has climbed by 3% over the past fifteen years and is projected to continue on that path.
For specific information about the 422A industrial electrician exam, check out our information here.
Get A Red Seal Certification
Getting your Red Seal certification advances your career as a tradesperson in Canada. It lets an employer know that you have the knowledge and experience to perform electrician jobs according to your specialty. That stamp of approval might make the difference in the job market picking you over someone else.