People and companies in various industries need to hire electricians at some point to install, inspect, repair, and maintain their electrical systems. But who are journeyman electricians? Well, a journeyman electrician is an electrician who has finished his apprenticeship programs and can work on independent projects.
However, these tradespeople can choose to become master electricians by enrolling in a technical school or working for 4,000 hours before sitting and passing the master electrician exams. But more on that later in the article.
In this post, we will answer the question "what is a journeyman electrician?", discuss his roles and provide you with career information to help guide your career decisions.
And if you are also interested in electrician career classifications, we strongly recommend you go through one of our previous articles, where we extensively talked about them.
What Is A Journeyman Electrician?
Journeyman electricians are electricians who are in the second phase of electrician training to become master electricians. These electricians train for many years and work independently.
Although these electricians can get a license to work on their electrical projects, they have to report to a master electrician. They perform rigorous electrical work to ensure that systems in residential, commercial, governmental, and industrial settings are safe and up to code. Usually, journeyman electricians specialize in the areas below:
Outside lineman
As an outside lineman, a journeyman offers outdoor electrical services like connecting and maintaining external electrical fixtures, from the power grid to the facility's power meters. They also work on public utilities, including traffic signals, street lights, power towers, and power lines.
Other Daily Tasks
Installation and maintenance of circuit breakers and insulators
Stringing new wires and existing wire maintenance
Overhead electrical transmission line installation and service
Construction and maintenance of substation
Electric tower and pole setting
Inside wireman
These electricians specialize in supplying power and fixing electrical problems for residential, commercial, and industrial customers. Also, journeyman electricians install light fixtures and sometimes security systems.
Other Daily Tasks
Construction and upkeep of power generation equipment like breakers, switches, and transformers
Repair and maintenance of existing wiring systems
Installation and service of heating systems
Troubleshooting and repair of electrical systems, faulty equipment, and other electrical components
Installation and repair of power systems and equipment on construction job site
What Does A Journeyman Electrician Do?

Journeyman electricians possess the knowledge, skills, and experience needed to work under minimal supervision or even independently. They often work in a wide range of industries, such as construction, automotive, technology, and others. While these electricians are trained to work with electrical wire, light fixtures, and control systems, they don't design the initial electrical system for residential, commercial, or industrial facilities. That role falls to the master electrician. The roles of these tradespeople often vary based on specialty, but the most common job duties include:
Installing, connecting, and maintaining circuit breakers, transformers, outlets, and electrical switches
Familiarizing themselves with building codes to make sure all electrical work done on a project is up to date with local electrical codes
Reading and interpreting electrical blueprints and technical drawing to ensure the system gets installed correctly and that they're placed in the right place.
They can be part of the maintenance departments of installations, like mines, oil rigs, power plants, etc.
Overseeing some electrical project management
Inspecting wiring within buildings to ensure they follow safety procedures
Supervising and training apprentice electricians and serving as mentors
Keeping track of inventory and placing orders for new parts
Diagnosing and repairing wires and fixing other electrical issues reported by residential customers
Evaluating electrical systems to diagnose problems in circuits, wiring, and other components
Performing preventive upkeep on main electrical components, like pumps, generators, and motors
What Education Will You Need
A 4-year apprenticeship program is the first step in qualifying for journey worker status and licensure. During the apprenticeship programs, students learn a variety of technical skills, including installation and maintenance of electrical power systems, security systems, power distribution, lighting systems, and energy management systems.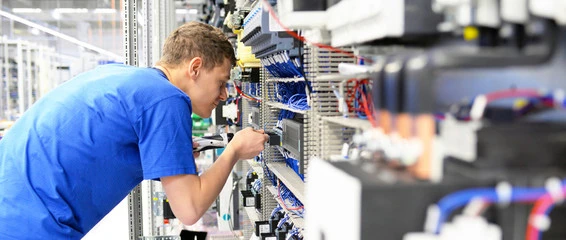 The apprentice electricians learn under the tutelage of experienced electricians, first by watching, then executing the electrical tasks later. But most on-the-job training tasks get supervised.
Generally, the programs include periods where apprentice electricians attend a technical school or vacation school. This holds for programs sponsored by industry groups and labor unions like the International Brotherhood of Electrical Workers, National Electrical Contractors Association, and Independent Electrical Contractors Association.
For the classroom portion, electricians receive nearly 600 hours of instruction on electrical theory, local and national electrical code, blueprint reading and interpretation, and site safety.
Depending on location aspiring electricians might receive 4,000 to 8,000 hours of supervised on-site-job training. They may handle several tasks, ranging from connecting and testing wires to drilling holes and setting anchors.
Besides instilling apprentices with technical skills and experience, classroom studies prepare them for a test. The exam ends the program, and successful students receive a journeyman electrician license. Those who wish to become master electricians must put in additional hours of training and study because the role requires problem-solving skills and hard work.
Will You Need a License?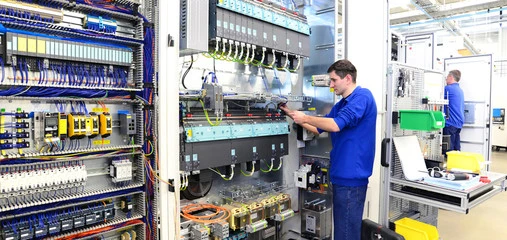 In most provinces and territories, you need a license to work as a journeyman electrician. To get the license, you need to complete four to five-year programs of apprenticeship or accumulate 8,000 hours of technical training and work experience.
Furthermore, applicants for journeyman certification must pass a written exam to prove their understanding of the Local and National Electrical Code and electrical theory.
Once you've received the license, some states might require you to complete continuing education credits to stay informed about electrical codes.
If you want to become a Red Seal Ticketed Electrician, you can sit for the Red Seal Inter-Provincial (IP) Exam to prove that you have the knowledge to meet national standards. With this license, you can work in any territory or province in Canada.
What Are the Job Prospects?
A journeyman electrician certification informs employers and workers that you're qualified to handle a variety of electrical projects. Holders of the license can secure journeyman electrician jobs as residential electricians, commercial electricians, or industrial electricians.
Some can find opportunities to work with non-residential contractors, utility companies, and local government agencies. But we also have self-employed journeymen electricians or those that work for national electrical contractors.

Nevertheless, these electricians need to continuously improve their technical skills and keep up with new technology for more success in the employment sector. That means attending technical schools for short courses, interacting with other electricians in the industry, and attending upgrading seminars.
In terms of job prospects, the demand for electricians has been on the rise due to a shortage of skilled labor. The same goes for journeymen electricians. What's even more interesting, this lucrative career field promises great future prospects.
In fact, the U.S Bureau of Labor Statistics projected a 9 percent growth in job prospects for electricians between 2020 and 2030. That's about twice the average growth projection.
This growth is attributed to increased population, adoption of new technologies, and increased retrofitting of existing buildings due to aging infrastructure.
In general, the U.S will need approximately 62,000 additional electrical experts in the years to come. So, the job outlook for anyone looking to get a journeyman or master electrician license looks great.
In terms of average median salary, journeyman electricians make about $62 142 per annum. They can also make more money by working overtime. Master electricians can pocket an average annual salary of $73 882 and enjoy an overtime bonus of about $10,000.
But the salary usually depends on the geographical location, years of experience, and technical skills.
Breakdown of the average salary of electricians based on the three specializations:
Residential Electrician – $60, 516 per year
Commercial Electrician – $48,523 per year
Industrial Electrician – $69,978 per year
In conclusion, if you're interested in the electrical trade, then being a journeyman electrician is the way to go. Besides the wealth of experience offered, you will enjoy great job prospects and there's a potential you will make six figures. With that in mind, if you want to work as an electrician in Ontario, we wrote another article about that, so don't forget to check it out.
Frequently Asked Questions
What is the highest level of electrician?
The highest level of an electrician is the master electrician. You earn a master electrician license after additional training and passing a licensing exam. With this certification, you can start your own business, own a company, or become a licensed contractor.
What is the top pay for a journeyman electrician?
Journeymen electricians earn an average annual salary of $62, 149 and $31.07 per hour. However, some companies can pay these tradesmen up to $79, 188 per year.
Why is an electrician called a journeyman?
An electrician is referred to as a journeyman because he/she has gained the necessary skills and qualifications to advance from an apprentice to a higher-level role in the electrical trade.
What's the difference between an apprentice and a journeyman?
An apprentice is an electrician in training, usually enrolled in a 4-year apprenticeship program that includes in-class training and on-the-job training. A journeyman, on the other hand, has completed the apprenticeship, attained 8,000 hours of technical training, and completed the journeyman licensing exam.